Smoky Mountain true log cabin rentals.
Imagine a trip to Gatlinburg or Pigeon Forge, where you could wake up in the morning and get this view…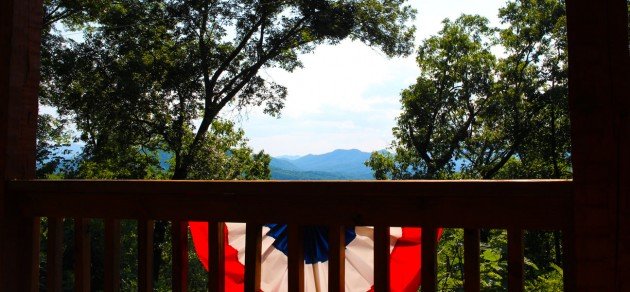 …Sometimes a getaway doesn't go far enough

The Gatlinburg, Pigeon Forge area is a great place to visit any time of year. There are plenty of activities fit for anyones taste in the smoky mountains. Gatlinburg only has one issue, it can get crowded very fast. We choose a vacation destination that will give us great experiences, but we also want to relax. Traffic jams and bustle are things we like to retreat from. Why leave your everyday locale, if your destination has the same problems? Some things are unavoidable, but not for your entire trip.
If you are on a family vacation, or looking to enjoy this area with a loved one, you may want to get farther away. Stuetz Mountain Retreat provides the best of both worlds. It is close enough to Gatlinburg – Pigeon Forge, to allow ease of access to popular attractions, while staying secluded, (40 min's away) enough to provide a comfortable retreat with great views.
Stuetz Mountain Retreat is very secluded, and has a level of hospitality in service that larger chain rental places can't match. A good Smoky Mountain cabin rental gives you the best of both.
---
Now is the best time to book.
Don't miss these Upcoming Events
April 7, 2017 – April 9, 2017

The 2017 Hands On Gatlinburg Arts & Crafts Weekend provides arts and crafts lovers the opportunity to own a beautifully crafted piece of artwork made with their very own hands

April 8, 2017 – April 8, 2017

Sample wines from Tennessee wineries along with small dish fare from some of the best restaurants in the Smoky Mountains.

April 11, 2017 – April 15, 2017

As winter fades and the colors of spring begin to sparkle throughout the Smokies, Gatlinburg blossoms into the center of all things botanical during Great Smoky Mountain Association's 67th Annual Wildflower Pilgrimage.

April 22, 2017 – April 23, 2017

The tenth Annual Mountain Man Memorial March is a 26.2-mile march in the Smoky Mountains of Tennessee which will be conducted

Saturday, April 22

in Gatlinburg as a tribute to our men and women in uniform.

May 11, 2017 – May 11, 2017

Gatlinburg celebrates it's Appalachian culinary past with the Gatlinburg Beans 'n Cornbread Festival! presented by Bush Brothers & Company.

 

June 9, 2017 – July 29, 2017

Tunes & Tales is a summer-long street performance event featuring costumed musical performers, storytellers and artisans portraying characters from time periods as far back as 1800.

July 4, 2017 – July 4, 2017

Finish off the 4th in style with a magnificent fireworks show visible from the downtown streets of Gatlinburg!

 

July 14, 2017 – July 23, 2017

Art, crafts and music lovers can find 150-plus booths featuring some of the nation's finest work.

August 16, 2017 – August 20, 2017

Celebrating the area's Appalachian musical roots, Gatlinburg will host its annual Smoky Mountains Songwriters Festival

August 16 through 20

.