A primitive experience with great views and plenty of comfort and own HOT TUB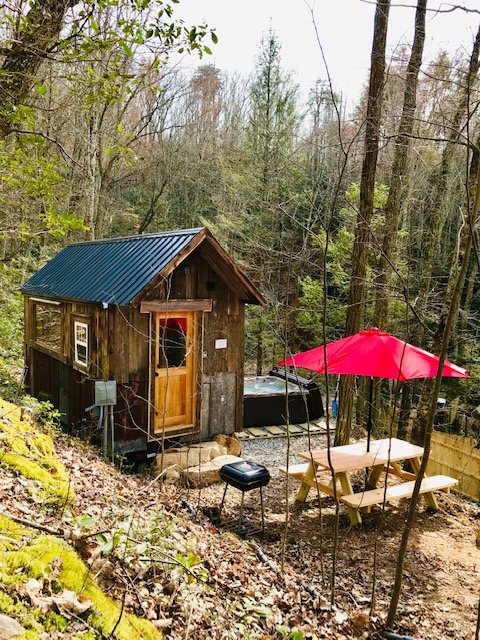 Beaver Creek located in Cosby/Newport Tennessee approximately 35-40 minutes from Gatlinburg. This type of "Beaver Creek" of less than 200 sq. ft. is debuting across the United States providing a primitive experience with comfort at an affordable rental rate. BEAVER CREEK is perched among the trees like a beaver structure overlooking a crisp mountain stream and a Pond next to the Cherokee National Forest. We build the cabin from reclaimed farm / barn material. Some material is from the Appalachian area around here and over 100 years old .The cabin will accommodate 2 guests comfortably, it provides a queen size futon / mattress which you can make to a sleeping quarter at night time and a comfortable setting area in the day time ,Bar setting area, bathroom with stand up shower and regular toilette, kitchen with sink, mini fridge/freezer, 2-plate electric stove top, grill and lots of storage. There is also a small table with seating for 2. The cabin is pet friendly but we recommend not to bring large dogs(pet fee is $40.00 per pet and stay and needs to be paid upon arrival in CASH) . The cabin is equipped with heat, AC,towels, linens and kitchen necessities, TV/DVD player. Beaver Creek surroundings are secluded with access to hiking trails, a pond and a wood fired sauna available. The sauna is an additional $15.00 charge and by appointment only. Staff is also available massages. Tiny Fox is 500 ft from your cabin, Tiny Owl 300ft but you still have your full privacy. With a 4WD/Front Wheel drive you can park 300 ft below your cabin at a assigned parking spot ; real wheel Dr vehicle can park 600ft away and if you need help we can drive you and your blongings with a 4-wheeler to your cabin. At the cabin you will find a fire pit with grill, picnic table. All of this stream side view, secluded and part of Mother Nature. What are you waiting for? Experience this new way of getting back to nature.
For an additional Fee you can also reserve the Wood fired Sauna($15 CASH), Massage($35 for 1/2 hr Massage and $55 for 1 hr Massage). We also offer Firewood bundles for $8.00 payable in cash per bag.
Please read House Rules for more information before booking.
Extra on location Amenities
Wooden Japanese Soaking Tub BENEFITS:
Soaking in 42-43 C (107-109 F) hot water improves blood circulation, skin irritation, and eases the expulsion of toxins from the body. The steam and flowing water originate minus-ions which have direct anti-aging effect and are beneficial for relaxing the mind.
    This wooden bathtub     has high thermal insulation and soft touch, moreover it generates a soothing cedar aroma when filled with hot water.
Wood Fired Sauna BENEFITS:Detoxification for Your Whole Body: is one of the safest and most efficient detoxification methods for expelling harmful environmental toxinsFibromyalgia: Sufferers of Fibromyalgia Syndrome (FMS) often complain that they hurt all over during a flare up.Cardiovascular Workout: Medical studies demonstrate sauna health benefits such as lowered blood pressure, improved circulation and enhanced metabolism
Sauna Benefits for Stress Relief: Relax, eliminate tension and melt away the buildup of daily stress and the tension of the workday grind.
Pain Relief: Real, lasting relief for nerve damage, arthritis, muscle pain, carpal tunnel, joint pain and fibromyalgia.
Weight Loss: Relax, unwind and burn more than 600 calories in a 30 minute session
Organic Skin Care: Dramatically renew elasticin-collagen tissues while crow's feet, forehead lines, wrinkles, age spots, scars, varicose veins and stretch marks naturally fade away. Look younger while you cleanse your body from the inside
Area: Newport
Bedrooms/loft: 1/1
Bathrooms: 1
Amenities
| | |
| --- | --- |
| · Queen Size Bed | · Hot Tub outside |
| ·  2 Loft areas | · Hiking at Cabin |
| ·  Horseback Riding | ·  No Smoking |
| · Coffee Maker | ·  Charcoal Grill |
| · Mnt Farmer theme | ·  Secluded |
| · Hot Tub outside | ·  AC/Heat |
| · Linens | · Pet Friendly( only small animals allowed) |
| ·  Wooded View | · Towels |
| ·  Hiking Trail Access | · Outdoor Fire Pit |
|  ·  Farm Animals | · Wildlife |
Cabin InteriorBundles of firewood are available @ $8/bundle.
Reserve This Cabin
Additional Guest charge for more than 2 guests.