The Top 3 Benefits of a Relaxing Mountain Retreat.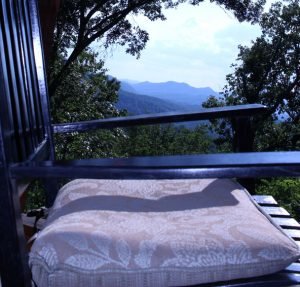 The business of life along with our never-ending 'to-do' lists can offer little opportunity to sit back, relax, and enjoy the moment. The benefits of a mountain retreat can greatly improve our health, happiness, and quality of life.
Life is meant to be enjoyed, explored, and lived to the fullest!
By taking a much needed and well-deserved retreat into the fresh air of the scenic Smokey Mountains you'll experience a number of benefits for the mind, body, and soul.
Today I'm going to share with you the Top 3 Benefits of a Relaxing Mountain Retreat.
1) Enjoy the Present
Most of the stress people face today has to do with running around trying to meet deadlines, pay bills, or deal with the frustrations of hour long commutes and screaming toddlers. When you step into the relaxing getaway of the beautiful Smoky Mountains, the pace of life just naturally slows down. There is just something magical about that fresh mountain air that makes you feel like everything is going to be okay. Before you know it your endless 'to-do' list has faded away from your mind. It doesn't seem so urgent anymore.
2) Experience Quality Time Alone or With Family
As soon as you start navigating the winding roads of the beautiful mountain's curves, you are instantly transported to a place where time seems to stand still.  Things become more simple and it creates the perfect atmosphere for connecting with your roots and your inner self. You may find yourself flipping through a heartfelt novel, sitting around the warm glow of a nice evening campfire or going on an adventurous hike with your friends or family.
3) Connect with Nature
There is no better place to enjoy the benefits of nature. In the mountains you are surrounded by the very best of what the land has to offer. You've got the magnificent and thriving trees standing tall all around you while creating the most clean, oxygenated air that will have you breathing deeply and getting the best sleep of your life! There are many animals nearby too. At our resort we enjoy having a dedicated area to care for and protect beautiful wild life that will be a real treat for you and your family. We have everything from hens to mountain goats to a rescued fawn who loves to greet our visitors while visiting her living quarters.  Not to mention, the wildlife that you can find while going on an adventurous hike that begins right at the footsteps of your cabin.
With great views, beautiful sites, and lots to do in such a breathtakingly beautiful place, I am so grateful for the opportunity to share all of this with you! Schedule your visit with us today,we'd love to have you!